myDataspace
Know your data. A more efficient way of analyzing, indexing and storing your files.
Get a complete overview about your company's data
Calculate combined User and Storage Costs
The application myDataSpace analyzes your company's data and supervises it in the long term. This allows you to take better business decisions about managing and controlling your storage solutions. 
Reduce unwanted redundancy
Allocate storage space more efficiently
Prospect future data growth
Plan your storage investments based on hard facts
Calculate how much storage will be needed
Provide better storage solutions to your employees
Main advantages
Highly scalable
Easy to use
Automated, individually customised reports
Features
Data and Information Management and Structuring
Analysis and Optimization of Storage Space
Extensive Scalability
Automated, personalized reports
Preparation for Data Migration
Description
Every day, in every company, thousands of files are unused, duplicated, lost, corrupted or simply impossible to find, causing entire teams to lose precious time. At the same time, the sinking price of storage solutions simply cannot keep up with the constant and exponential increase of data produced globally.
Enter myDataSpace, IBV's own software for sensible Data Management. Our innovative program collects all of your data and saves it in its internal database, complete with information about their original location, ready for your next migration. It then analyses in different reports the status of the existing storage devices, showing where and when more space is needed by spotting trends ahead of time.
The program also offers an overview of the costs of each storage device per GB and offers suggestions on how to optimize them. This way, you can use your expensive devices for important data you need quick access to, and choose different solutions for your archives.
The report function, completely customizable, can be used to create visual representations of your data that are easy to understand and leverage. Reports can also be individually customized.
myDataSpace also makes a cost analysis of E-Mail, Active Directory, File and Cloud servers to offer you a complete overview on your storage devices, accounting also for different business units and departments in order to attribute costs to the right owners.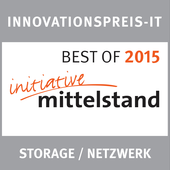 myDataSpace (formerly known as SRT – Storage Review and Tagging Tool) was awarded with the Innovation Prize IT 2015 in the category Storage/Network.