IBV is a new member of the Swiss "Work-Smart-Initiative" and signed its Charta in August 2018. Together with 164 other companies in Switzerland, IBV emphasizes its commitment to modern and flexible forms of work.
What does modern and flexible work at IBV look like?
IBV's people are thought leaders of the modern workplace and new ways of working digitally. The unique combination of cutting-edge technologies and office rooms enables IBV to experiment, learn and develop modern ways of working.
The unique IBV office – How it is to work in a former hotel
Two years ago, IBV moved from its old office into a former hotel and transformed hotel rooms, restaurants and cigar lounges into modern workspaces. 20 minutes from the centre of Zurich, IBV is located in rural Bonstetten just next to the train station.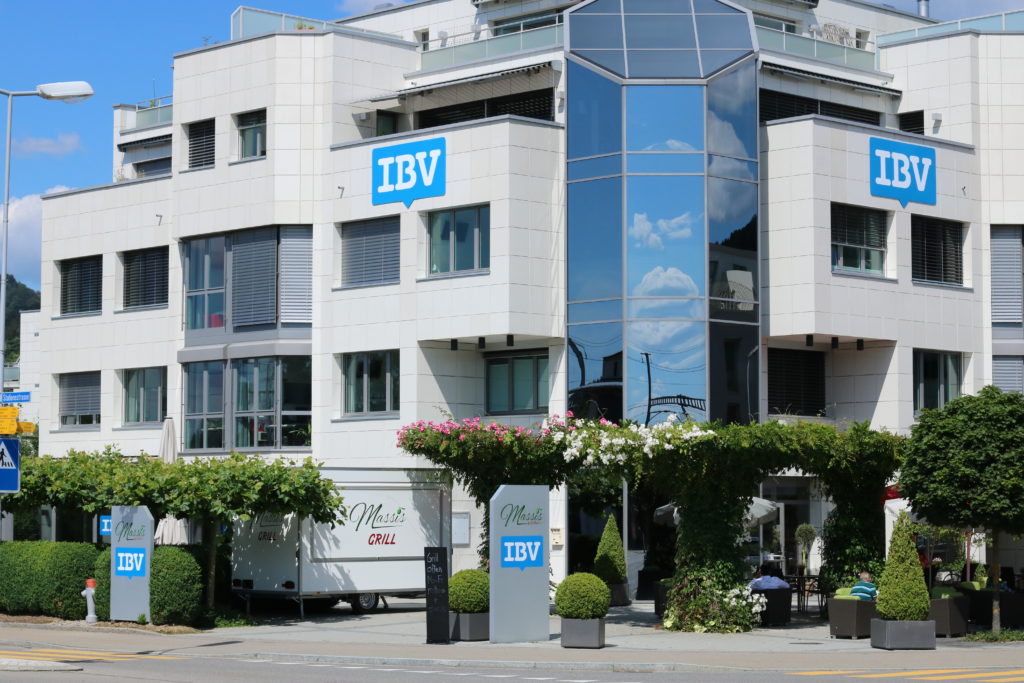 Collaboration Zone & Co-Working Space
The ground floor of our building is the "Collaboration Zone", optimized for teamwork, creativity sessions, digital workshops and many other kinds of collaboration. Equipped with several large touchscreens (Surface Hub, DELL Conference Monitor, Windows Collaboration Displays (coming soon)) the collaboration zone enables people to do everything digitally. We removed analogue flipcharts and physical sticky-notes. (See here how we work with digital sticky notes)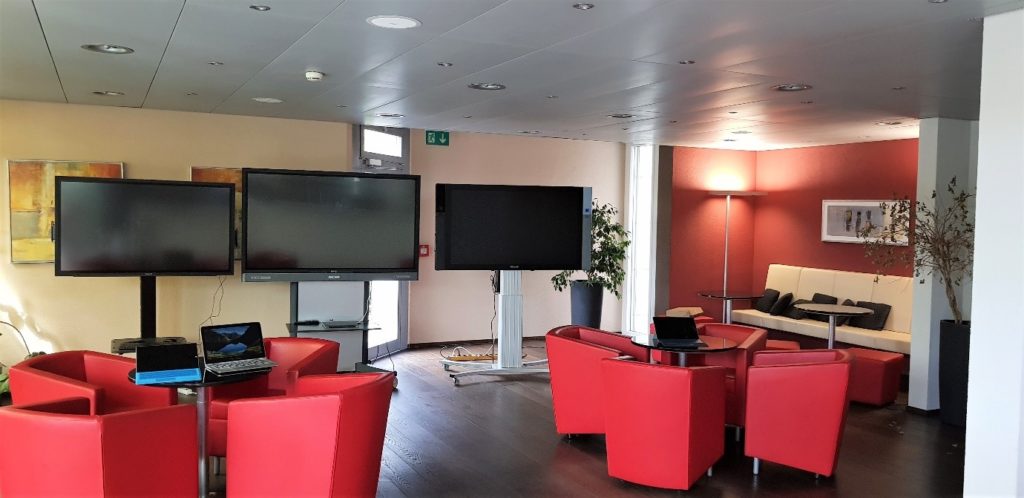 Besides the collaboration zone, there are 4 shared desks that can be used internally or by external people to work at IBV. This small are for co-wokring is open for everybody that spends a visit to IBV.
First floor – Hotel rooms transformed into individual offices
In the hotel rooms on the first floor we removed all beds and replaced them with office desks. Each employee at IBV can have its own room, with shower and toilet. If people would like to avoid disturbance, they can easily close the door and enjoy privacy at work.
Second Floor – Hotel rooms and conference room
The second floor is still filled with functional hotel rooms and a conference room for 30 people.
Several of our employees come from all around the world. Despite our sales representatives in the UK and in Asia, there are several people from Italy who either come here and stay in the hotel rooms, that work from home, or on the road to meet customers.
If partners are visiting us, they can sleep in our office, which is great to connect with them.
Development floor – Where the magic happens
The development team decided to work in an open-plan office. On the third floor all furniture of the former restaurant has been removed and replaced with office furniture.  A Surface Hub 55'' and technologies like Microsoft HoloLens, Samsung HMD Odyssey Windows Mixed Reality Headset, Oculus Rift turn the development floor into a "zone for cutting the edge technologies".
Tools we use for our modern way of working
Generally, we do all work on our personal devices, from computers to laptops to tablets. Paper and pen aren't being used anymore. Thus, sharing content has become easier and people are more accessible, which is key for communication within the company.
If we buy new devices, we make sure they are all touch and ink enabled as this fosters digital working.
We are using tools like Office 365, Microsoft Teams, Skype for Business, CollaBoard, Trello for collaboration within our teams and between different departments.
Why providing a smart workplace?
Being flexible as an employer is inevitable for a smart workplace. Not only do you save travel costs and CO2, but also people will be more motivated and productive at work.
Flexibility means to let everyone decide when to start work, where to work and how to work mostly. Of course, there are several basic conditions and maybe core hours to meet, but generally people are more up to their own decisions. This step requires mutual trust, which builds up over time.
The challenge for our people – How to become a smart worker
As a smart worker you need to contribute as well to make this change happen.
First of all, you need to know yourself. Find out the timeframe, that you are the most focused during the day. Secondly, find a place where you can work productively.
Be honest with yourself, because the most productive place isn't always the most comfortable one. Last but not least, show your superior that they can trust you and structure your work well adapted to your environment (train, car, home, office).
Here's how we work smart and that's the reason why IBV signed the Work Smart Charta.