Digital Workshop Meet-Up & BBQ 31.10.2019
Learn how to create a digital workshop experience
This event is about how to create a digital workshop experience using tools like digital whiteboards, sticky-notes, cards, voting methods, tablets, and large touchscreens.
Our experts with long-term experience in digitizing workshops and using collaboration methods will guide you through the workshop.
Key Learnings:
Understand the capabilities of digital tools for workshops.
Learn how a touch tablet with a pen can foster creativity.
Learn 4 digital workshop techniques.
Agenda
18:00 Opening
18:30 Digital Workshop Experience: Each attendee gets his own Microsoft Surface Go tablet and we use large interactive displays in the group. Everything we do in the workshop, it will be done digitally. We focus on the following 4 techniques and will work live on some concrete examples.
Icebreaker exercises: Get to know 4 icebreaker exercises you can do digitally.
Persona definition: See how we combine templates, images, and sticky-notes on touchscreens.
Gamestorming: Learn how to do to a remote innovative brainstorming session.
Kanban: Experience how to collect tasks on a large touchscreen and to manage them with a Kanban board.
20:00 Networking & BBQ: After the digital workshop experience we will invite you to a BBQ.
Michael Görög –  Digital workshop facilitator
Michael has been working fully digital for many years and started to digitize workshops and workshop-techniques three years ago. He is the COO of IBV and an expert for interactive displays (Surface Hub) and new work methods.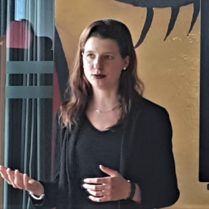 Sophie Hundertmark – Chatbot Expert & Founder aiZurich
Sophie has been researching chatbots for more than four years and is a partner of Paixon GmbH – the Zurich company for the strategic support and implementation of chatbot projects.
In order to design chatbot concepts, Sophie does a lot of digital workshops and will support our event with her professional knowledge and practical workshop experience.
Date:  31.10.2019
Time: 18:00 – 21:00
Location: IBV Collaboration Space – Stallikerstrasse 1a, 8906 Bonstetten (ZH)
By train: 1 minute-walk from the train station "Bonstetten-Wettswil".
By car: Big parking area directly next to IBV Collaboration Space.