We are happy to announce the new Collaboard web version. Thanks to the feedback and new ideas of all our users our online whiteboard and collaboration solution has reached it's next level of evolution.  
A great team of  developers, engineers and designers from all over Europe created a the amazing new Collaboard app.  
The new Collaboard version has a fresh and modern design and a lot of improved features to make remote meetings more productive and fun. The app runs directly in any web browser and enable its users to collaborate with others remotely, visually and in real-time. Working with your remote team on ideas, concepts and projects has never been cooler.   
The Early Adopter Program starts the 6th of April 2020. 
You are invited to join our early adopter program. Explore together with innovators, digital leaders, and digital work experts the new way for remote collaboration.  
Help us to make the new Collaboard app better 
Join our movement to improve remote collaboration 
Get Collaboard 2 months for free
Get to know a new way of working digitally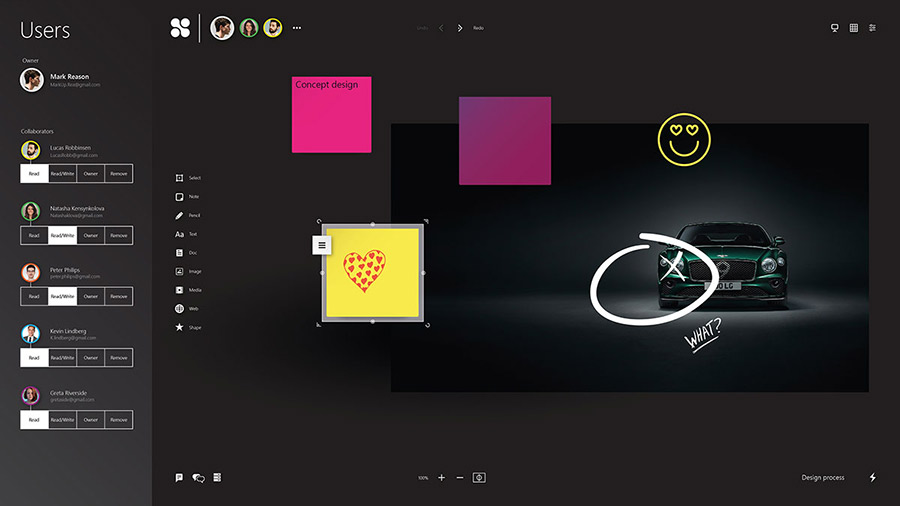 What's new in Collaboard
New Design – Enjoy working with the clean, modern new interface.
Infinite Canvas – An infinite space where you can drop in pictures, sticky notes, documents, use ink and draw.
Web Version – With the app running in the browser you can use it from any device. From a small tablet up to a large interactive display.
Shapes – Create flowcharts, diagrams or organizational charts with our library of shapes.
Drawing Tools – Easily draw with different tools: pencil, pen, nib, brush, highlighter.
Dark Mode – You can now choose a darker color palette for better readability and save battery on your device.
Great minds think together 
People are different and work together in different ways. We believe the differences make great a team. Collaboard is made to bring teams together digitally.  It helps them to think, work and collaborate from wherever they are. Collaboard spices up video conference sessions, remote meetings and digitizes workshops.  
Free Upgrade for existing customers
Customers of the existing Collaboard app get a free upgrade to the Collaboard Web app. The existing Windows App keeps functioning and will be compatible with the Web App after the Early Adopter Program.