Touch and Ink on the rise
Last week we attended the DELL Technology Forum. Compared to last year, it was a completely different experience. Why, you may ask. All of the answers can be found in this blog post.
First, the keynote presentations were not done using powerpoint slides anymore. Instead, digital whiteboards and a digital pen were used to present and sketch during the talk.
Secondly, this year's booths at the Forum looked different. There were many more touch displays present across every company's booth. Last year, IBV was the only company that brought their 55″ touch monitor. This year, the event hall was filled with the new 75″ DELL touch displays.
The displays were used not only to display information, but they also invited customers and visitors to interact with the content on them.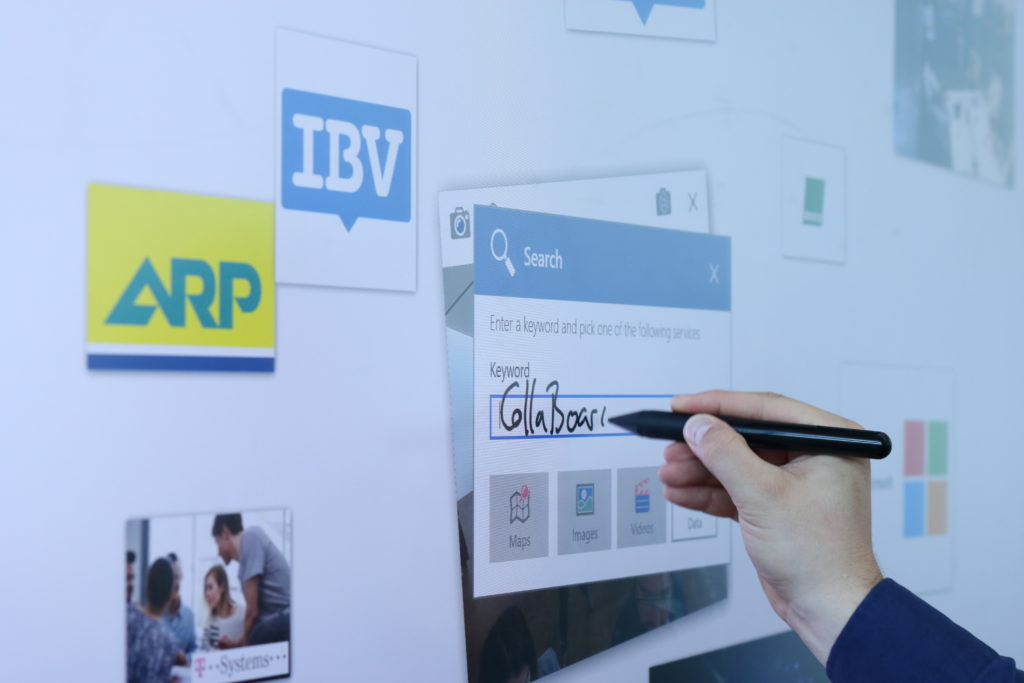 Collaboration and Conferencing
At our booth, the DELL display was equipped with a Logitech Meetup camera and running the meeting room software QuickLaunch. With those simple tools, the display got transformed into a powerful collaboration system.
We used CollaBoard as the digital whiteboard solution on the DELL display to show concrete business use cases like brainstorming, mind-mapping, digital workshops and online meetings for these kinds of collaboration systems.
All event attendees, that visited our booth, truly appreciated the CollaBoard way of working with the DELL displays. CollaBoard can be used as a cloud-based solution and on-premise as well. Especially law firms, banks, and pharma benefit from on-premise digital whiteboard collaboration.
The advantages of the DELL approach
DELL's unique approach to the young world of digital conference and collaboration systems, by offering a complete modular solution, was very impressive. Additionally, the new DELL 75″ touch display offers high-quality touch technology and a great presenting experience.
We are already looking forward to attending the DELL Technology Forum next year and to presenting how to:
foster creativity in your team
work together location-independently
collaborate efficiently
use collaboration software like CollaBoard
implement interactive touch displays for modern ways of working
benefit from cutting-edge technology as an enterprise
Our session – Speech about the new ways of collaboration
With interactive touch displays it is possible to digitize flipcharts, whiteboards and to rethink collaboration. Learn how modern teams collaborate in real-time and location-independently. Plus, new possibilities for presentation and interaction are going to spice up your performance.
Step up your digital teamwork game now with DELL touch displays and software like QuickLaunch and CollaBoard.
Replace your analog flipchart, beamer, and whiteboard with a digital touch display. Learn about the latest trends for digital workshops, creativity sessions and modern meetings. We are looking forward to supporting you on your digitization journey.