The Collaboration Hub ist the first app for the Surface Hub, which redefines collaboration within the team
Collaboration Hub integrates the existing features of the Surface Hub and Windows 10 devices and enables you to easily and freely collaborate on projects. The Collaboration Hub is like a huge canvas, where you can add and develop your ideas in many different ways. Therefore, the app integrates the various input options on different devices. Use the pen, voice commands and touch gestures to interact with the technology in a natural way.
Use the Collaboration Hub on your Windows 10 Phone
Project ideas are usually not created at a desk, but at places that inspire us. No matter where you see something exciting or where you create an idea, you can capture it quickly in the app. Take a photo, record a voice message, or simply create a note to share the content with your colleagues.
Use the Collaboration Hub on your Windows 10 Tablet or Desktop PC
From home you can edit creative ideas and add more notes and comments to project ideas and documents by using the pen on your Surface Pro. Arrange your ideas in groups, on a timeline or on the basis of other criteria and prepare a meeting with the project team.
Use the Collaboration Hub on the Surface Hub
While you meet with your team in the meeting room in Zurich, the entire project can be opened directly on the Surface Hub and all content and comments will be available immediately. Now you can further develop your ideas with several people at the same time and revive your project. Even people in Berlin who are unable to attend the meeting on site, can use their phone or tablet to see what the team does. They can also create written comments or comments via skype for business to contribute to the project meeting. The team in San Francisco can directly collaborate on the project on another Surface Hub. Collaboration across locations is as easy as never before thanks to the Surface Hub.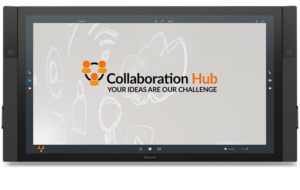 The Collaboration Hub app will soon be available for download in the Microsoft Store as well as in the Microsoft Business Store.