Collaboration Hub @TechDays2016
New technologies change the way we communicate, work and collaborate. With the Surface Hub and the Windows 10 devices, software and hardware are finally capable of making collaboration possible for everyone. Our regular working methods with whiteboards, notes, cards, sticky notes, etc. have been successfully established and support creativity in teams.
The digitalization of different collaboration options and enhancements provide us with new opportunities for project cooperation, both in our personal and in our work life. These new opportunities are our inspiration and impulse, and the origin of the Collaboration Hub.
We were very pleased to present the Collaboration Hub to a wide audience at the Microsoft Tech Days in Baden for the very first time.
We received very positive feedback about how we implemented collaboration possibilities and how people can work together on different projects, documents, and different devices across locations simultaneously.
We thank you for your interest and all the creative input we received.
Installation of Collaboration Hub on the Surface Hub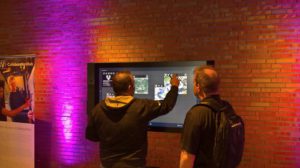 IBV booth at the Microsoft Tech Days 2016 in Baden
MVP Gian Paolo Santopaolo, Lead Developer at IBV and the creative spirit behind the Collaboration Hub