Samsung Flip – Cool digital Flipchart with a lot of potential
At IBV, we all focus on digital transformation of teamwork, meetings and collaboration. Therefore, we tested the Samsung Flip for several days to see how this device can improve the way we are working together.
Our last analogue flipchart was banned from our office and replaced several years ago, and we've been working with large touchscreens ever since. Now, with the Samsung Flip, the flipchart feeling came back a little, at least while using it in portrait mode.
The flip experience
The most interesting feature of the Samsung Flip is the flip capability. Its screen can be used vertically and horizontally by easily flipping it with your hands. Depending on the use case, it can be very useful to flip the screen, e.g. when you connect your phone. Recently, the Surface Hub 2 has been announced in a video and it visually reminds us very much of the Samsung Flip.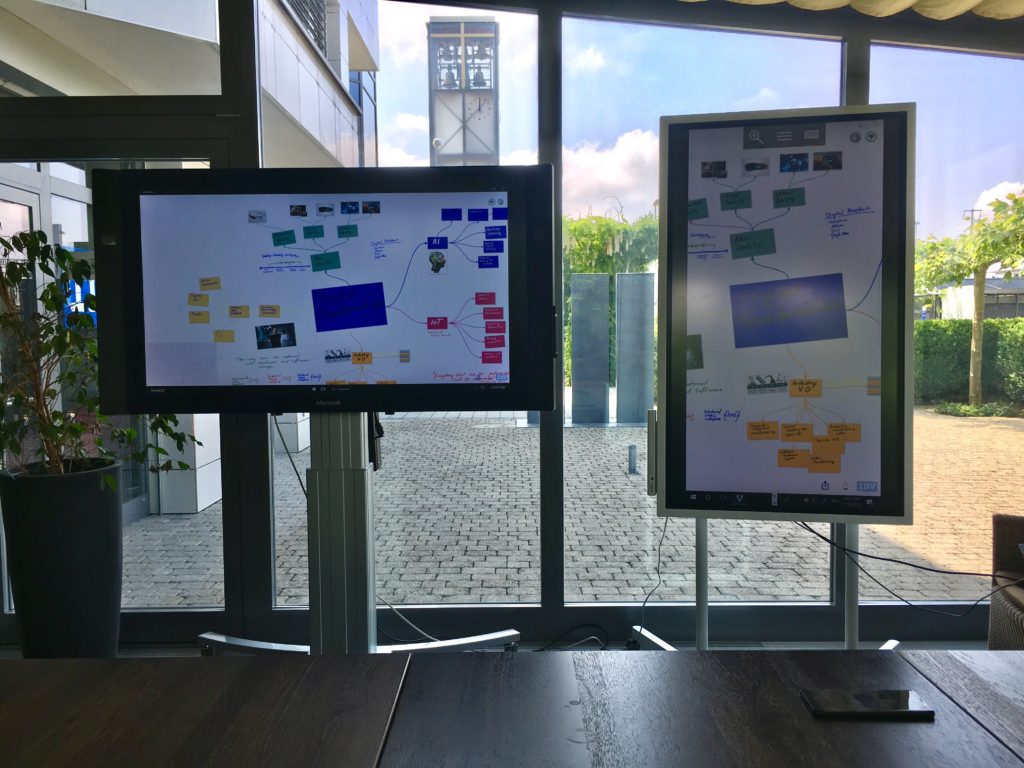 Image:  Surface Hub (left) Samsung Flip (right, in portrait mode)
Ink experience
The ink experience on the Samsung Flip is completely different to what we have known so far. Its wooden pen lacks many features, that we have gotten used to from using our Microsoft Surface devices.
The Samsung pen is double-sided, one with a thinner and one with a thicker end. While the thinner one can be used for normal writing the other is meant for marking content. Inking on the Flip felt special, but it is a good alternative to an analogue pen for sure.
It needs to be mentioned, that the pen of the Samsung Flip is not an active pen and therefore, it is not possible to have the same high-quality ink experience as on touchscreens supporting active pens.
Extend the use cases of the Samsung Flip
After trying out the native features of the Samsung Flip, which basically allow to work with digital flipcharts and non-shared whiteboards, we connected our Windows 10 PC (Surface Pro) to broaden the device's use cases.
Connecting with HDMI works for video and audio. To enable touch interaction as well, we just used an USBCI cable. With this setting, we were able to make changes on the Samsung Flip, that our Surface Pro adapted within milliseconds.
Image: Digitized agile boards on Surface Hub and Samsung Flip
Samsung Flip for collaboration
When working remotely and with teams located everywhere, it is important to be able to share content of any meeting artefacts. Hence, we wanted to see how the Samsung Flip can support us regarding collaboration with other devices.
Connected to a Windows 10 PC, we started the app CollaBoard, which transformed the Samsung device into a powerful real-time teamwork booster. Thanks to this setting, the number of use cases of the Samsung Flip in a modern meeting room or workspace has been increased drastically.
Image: Real-time collaboration on Surface Hub and Samsung Flip, connected via CollaBoard
Often used for creativity sessions:
Digital workshops
Process creation
Agile methodologies
Dynamic presentations
Have a look at our video on how to do a Mind Map with the Samsung Flip.