In this blog post, we are going to share the transformation of workshops with you. It will inspire you to rethink the way you are doing workshops now.
How we used to do workshops
Most business workshops are done in a small group of people, that are working together for a limited time period on a specific topic. Usually, a workshop is a moderated collaborative act.
Today's workshop settings are mostly analogue, so people are using pen, paper and sticky note walls to collaborate and idealize on a chosen topic. Due to these settings, it is necessary for people to come together in the same room in order to perform the workshop.

Settings for digital Workshops
While digitizing pen, paper and sticky-note walls is easy with available technologies, it still remains a challenge to do remote digital workshops. The communication quality is simply the best, when people are in the same room to see, hear and "feel" each other. During a remote workshop, especially non-verbal communication is difficult or almost impossible.
A setting with interactive displays, tablets and collaboration software allows to digitize ALL analogue workshop material.

With these technologies, it is easy to digitize existing workshop methods and to make remote workshops possible. Depending on the quality of the video conferencing systems, workshop attendees can see and hear each other precisely.

Digitize your workshop with interactive displays
Ideally, a modern digital workshop room contains several interactive displays, a projector and tablet computers for all the attendees.
The interaction with cutting-edge technology shall be as seamless as possible and not more difficult than working with analogue tools. A good user experience and high usability of all used technology is a key factor for a successful digital workshop.
Therefore, mouse and keyboard are not the best tools. Using an interactive display and tablets with appropriate software, allows people to interact naturally with technology. If they use their hands to create and move content and a pen to write, the digital workshop experience is complete.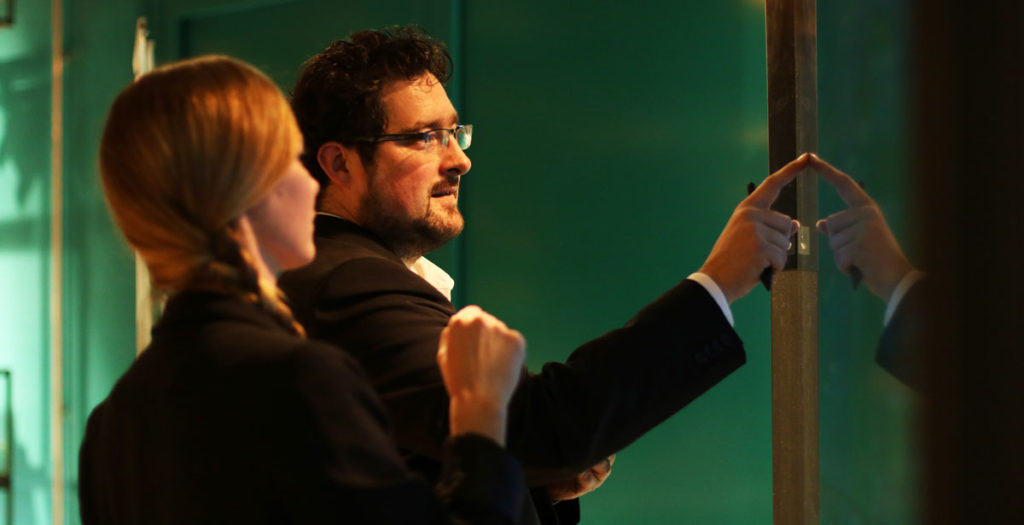 Digital workshops face several challenges and limits, but there are a lot of advantages with sustainable impact.
Pros of digital workshops
People need to travel less, if they join remotely
A workshop can be organized spontaneously
Everything is created digitally from the beginning
It is easy to share the results of a workshop
Continuing a workshop after a few days is possible
No paper is wasted anymore
Cons of digital workshops
If people join remotely non-verbal communication is more difficult (existing high-quality video conferencing hardware can help to improve remote communication)
Moderating a digital workshop requires new skills for workshop moderators
Some group activites like coffee break are not possible if people join remotely

Digital Workshops with our partner T-Systems
With T-Systems, we found an innovative partner that started digitizing their workshops and the workshops for their clients with us. In the following video, T-Systems show how they perform modern workshops using latest technologies (in the video a DELL Interactive Touch Monitor (C8618QT), a Surface Hub 84" and many Microsoft Surface devices together with our app CollaBoard).