One year with 3 Surface Hubs @IBVSolutions
The Surface Hub brought about a completely new way of working and helped us with the digital transformation of our workplace. It has been almost one year since we integrated three of them into our offices, and they already replaced our projectors, flipcharts and videoconferencing equipment, but also positively impacted our work in many other ways.
Exploring a New Way of Working
Placing the Hub in a meeting room and expecting the digital transformation to just happen is not a realistic expectation. We took our time exploring and learning how to work with it. Each company is different, but we started with experimenting, trying different apps and bringing some of our business processes to the Hub. The experience gained working with touch and ink-enabled Surface Pro helped a lot.
Transforming our Meeting Rooms into Modern Workplaces
Working on the Surface Hub feels natural and intuitive, and most of our employees got quickly acquainted with its basic features. At the very beginning, using the Whiteboard and Skype for Business apps helped them realize the advantages of this new technology.
… And Changing our Meeting Culture
With the Surface Hub's multi-touch capability, two to four team members can work or brainstorm on the same project at the same time without needing their laptops. This is probably the device's greatest advantage, especially in combination with the Connect feature, to share presentations and documents from our PCs directly to the Hub, and modify them on the Hub by working in small groups. We use the Connect feature a lot with ink and touchback to share all sort of applications from other devices. Up to three people can work together on a 55'' Surface Hub at the same time, a feature which gave our meetings new flair.
CollaBoard + Surface Hub = Perfect Setup
As an IBV product, CollaBoard is the most used application on our devices. We did a lot of testing, fully exploring this new way of working by trying different collaboration scenarios. Demoing CollaBoard on the Hub is also great, as the app has a very intuitive user interface and provides teams and individuals with a concept of collaboration that they have never experienced before. Of course, holding our demos on the Surface Hub causes a basic wow effect. This is because the Surface Hub provides a level of immersion that is simply unparalleled by any other device.
Dynamic Meetings
We started to stand up a lot more to use the Surface Hub, which made our work more dynamic, compared to sitting the whole day. Sure, we still had a few old-school meetings with one single presenter, but given the chance, everybody wanted to work on the Hub. In the meantime, we rolled out CollaBoard on all our personal devices, which enabled us all to work together in real time on the same projects from our laptops and smartphones. This way, anybody can contribute to a presentation from anywhere, on any Windows 10 device, with CollaBoard's real-time collaboration features.
Bye Bye, Printers, Flipcharts & Projectors
The inking experience is so fast and responsive on the Surface Hub that it feels like using a real pen, providing the perfect way to review proof-of-concepts, documents, and projects in detail; no need to print them anymore. Having our notes digitalized is also a clear advantage compared to writing them on a flipchart, then transcribing them on the PC. Projectors and flipcharts have both been relegated to the basement, completely replaced by the Surface Hub, and we use our printers only for external communications.
Learning to Rethink the Way We Work
The Hub is a shared collaboration device, and as such, it does not have the features of a personal device, such as login or dedicated storage. The biggest obstacle to overcome was switching mindset from a personal to a shared device, but as we were already using the Microsoft Cloud to store all our data (including CollaBoard, which is Azure-based), we quickly got used to it. To reflect this important characteristic of the device, we designed our application CollaBoard not to require login on the Surface Hub, and therefore not to store any access details to projects.
Did the Surface Hub increase our productivity?
It is always difficult to measure the exact impact of a new technology, but here is what the Surface Hub did for us:
Saved us a considerable amount of time and travel costs

Spurred innovation and ideas

Completely replaced flipcharts and projectors

Increased activity and participation in offline and virtual meetings

No need to print or use paper anymore (with the Hub and the Surface Pro)

Virtual meetings are more engaging and easier to start with Skype for Business on the Hubs

Reduced travel to customers and partners with Hub2Hub meetings
What About Creativity?
Our brainstorming (and Gamestorming) sessions became more productive with our new setup, as we now have a high-level overview of our projects, and the possibility to involve our colleagues in our offices abroad to contribute ideas in real time. Furthermore, with CollaBoard, anybody can contribute anonymously to a brainstorming/Gamestorming session, which increased participation.
"Working with digital sticky notes is a pleasure, as the pen is always working, I get no dirty fingers and there is no limit to the number of available sticky notes to use"
Wowing Partners and Clients
Our partners and clients are more involved in virtual meetings held on the device, as they can see us and, thanks to CollaBoard, review and approve our projects in real time. Talking from Surface Hub to Surface Hub over Skype for Business helped us building strong relationships with a global network of partners and customers. Being in Switzerland, we don't get many chances to meet our Australian partners in person, for example – the Hub brought us closer to them.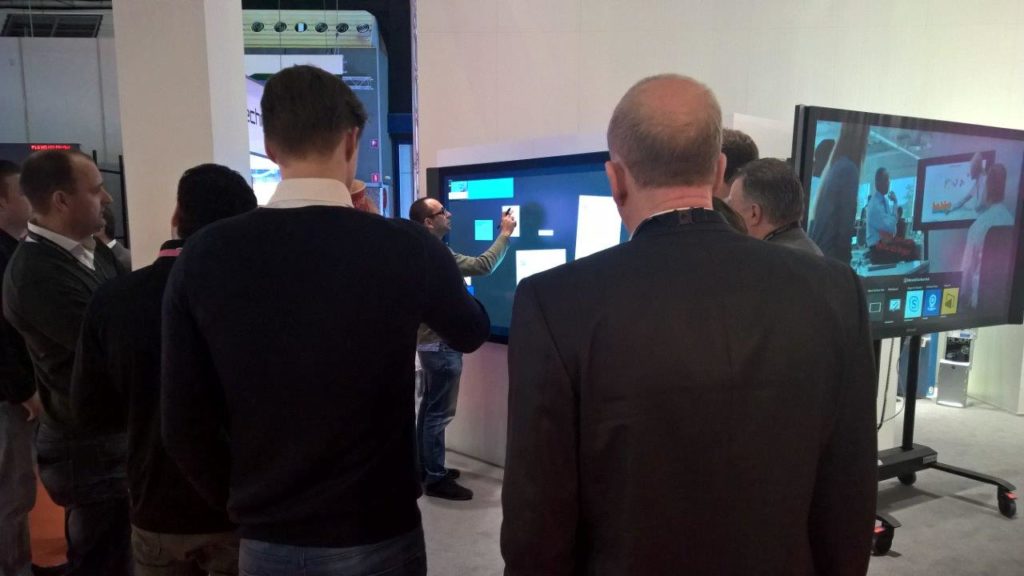 And Now?
We need to mention that the Surface Hub is not perfect – yet. It is a high-quality device with a few features to improve, and we look forward to seeing how it and its app ecosystem will evolve. We are looking forward to get the Creators Update on our Surface Hub's. Still, it is the best collaboration device currently on the market to:
Share: we can share our projects and proof-of-concepts from our personal devices, work on it in small groups directly on the Hub, and save all notes and comments right away. It's just much better than sitting in a room with laptops while trying to work all together.
Present: the Surface Hub is great for both in-person and online presentations. The inking feature allows to seamlessly take notes during meetings and presentations, even with clients, as we speak. No need to print copies and copies, find your pen or use flipcharts and projectors. With CollaBoard, we can involve our clients and contractors, even those who don't have a Hub, to collaborate on many types of media (video, audio, images, maps, PDFs, etc.).
Brainstorm: the level of immersion offered by the Hub is very high, and the inking is amazingly responsive, which makes it great to brainstorm on your own or in small teams. Pair it with CollaBoard's real-time canvas to involve many more colleagues or contractors, or to hold virtual brainstorming sessions in real time.
We would like to share what we learned and get to know your experiences with the Surface Hub.

How was the Hub adopted in your company?
Which apps are you using on it?
What apps would you wish to have on your Surface Hub?

Let us know at surfacehub@ibv.ch