In this article, you learn the basics about the Surface Hub 2. If you think to buy one or many of these devices for your offices, you will get a good overview of what you can do with this device.
If you have any questions regarding Surface Hub 2, feel free to contact us.
1. Surface Hub – A great story continues
I remember the day when we got our Surface Hubs 1 almost three years ago. It was a sunny day and we were excited to start using these devices to explore new ways of working and collaborating. It was like a rush that started that day and it hasn't ended yet.
With our app CollaBoard we helped thousands of Surface Hub users in the last three years to explore new possibilities on how to work together in meetings.
Besides Surface Hub, we started to try out displays from other brands as well. Soon we found some interactive displays we really liked from DELL, SMART, Samsung and many others. To be honest, they are all functional devices, but none of them has a touch display as good as the Surface Hub's one.
2. Surface Hub 2S – Overview
The Surface Hub 2S is a 50.5-inch high-quality touchscreen equipped with features for video conferencing, digital whiteboarding and to work on virtual workspaces. It offers the accuracy and precision we know from tablets on a large display. To me, Surface Hub 2S looks like the big brother of the Surface Pro.
The Surface Hub 2S aims to do for collaboration hardware what the laptop did for the computer. The laptop brought the freedom to use and work with a computer wherever we feel comfortable. Same for the Surface Hub 2S, it allows teams to work with the device location-independent. Thanks to the movable stand and the battery pack, it is the most flexible video conferencing display, that has ever been created.
Surface Hub 2S – Display
The display of Surface Hub 2S comes in a light, slim and sleek design. It has a 4K resolution of 3840 x 2160 at 120 Hz with 20 touchpoints. There are very thin bezels and no pillars on the side like on Surface Hub 1. The display is one of the best displays available on the market.
Surface Hub 2S – Pen
The Surface Hub 2S pen provides the same precise inking experience we already know from the smaller Surface devices. With its high responsiveness, it feels as if ink flew directly from the tip of the pen.
Microsoft is shipping one pen with every Surface Hub, although the device and operating system allow multi-pen usage (in the future). Interesting is, that the pen will work on other Surface devices, but not on the Surface Hub 1. (There is no official list yet, which Surface devices are supported).
The pen has an integrated magnet, so it can easily be attached to any bezel of the Surface Hub 2S and 2X. It contains AAA batteries that allow for 12 to 24 months of usage.
Microsoft made the pen much thicker, like a whiteboard marker. The idea is to provide a more natural experience people already know from working with whiteboards or flip charts.
Surface Hub 2S – Camera
The Surface Hub 2S camera is a 4K camera and connected via USB-C to the Hub. It captures the workspace and the participants in a full field of view, which can record up to 30 frames per second.
The camera can be mounted on each side of the Surface Hub. It has a fixed focus and is optimized for conference calls.
Surface Hub 2S – Microphones
The Surface Hub 2S contains 8 microphones. With the beamforming, the microphones focus one people standing and speaking in front of the device. Noises further away from the Surface Hub, from its side or back, will not be captured.
The new capability called Smart Voice Automatic Giant Control minimizes background noise and processes the audio signal to improve voice clarity.
Surface Hub 2S – Speakers
The Surface Hub 2S has 2 wideband stereo front speakers and a hidden bass module in the back. The speakers are invisible to the users as they are tucked into the bezels.
Surface Hub 2S – Ports
Surface Hub 2S provides the following ports:
4 USB-C ports around the display (for the camera)
USB-A
Mini-Display Port Video Output
RJ45 Gigabit Ethernet
HDMI Video Input
USB-C with Display Port Input (to attach mobile devices)
Wi-Fi / Bluetooth
Miracast for touch- and ink back
Surface Hub 2S – Battery
Microsoft partnered with APC by Schneider Electric to build the lithium-ion APC Charge Mobile Battery for the Surface Hub 2. Not only does it help you to power the device while you move it, but also keeps the device powered while you are using it.
AC power outlets aren't always located where your team needs to do their work, so for up to two hours, the battery will power the display wherever you are. It can be charged back to full in 90 minutes, Microsoft says.
In fact, the battery sits in the tray of the mobile stand, allowing for a great integrated design. It's cleverly hidden in the easel's fabric-covered shelf.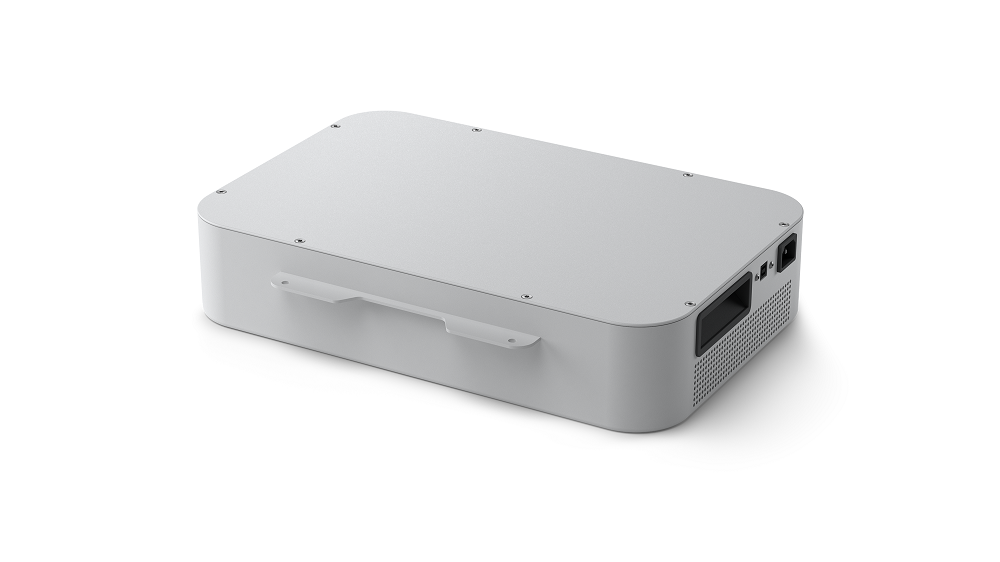 3. Software running on Surface Hub 2S
Microsoft upgraded the pre-installed whiteboard on the Surface Hub with a new version. This whiteboard is a great app for all who want to get familiar with the device and explore new ways of working. It is designed as an easy to use and intuitive app mainly for brainstorming and sharing quick notes during a meeting.
The Microsoft Whiteboard has limited features on purpose to make it as easy to use as possible for everybody. If you are looking for a more advanced digital whiteboard for your Surface Hub, check out our app CollaBoard.
While the Hub 2S will only ship with its slimmed-down take on Windows, it can actually run Windows 10. Instructions will be available for owners, who want to upgrade to Windows 10 Pro. Microsoft thinks they'll be the exception to the rule. Still, it's possible that artists and designers will want a Hub 2S to use not as a collaboration tool, but as a plus-sized take on the Surface Studio.
4. Surface Hub 2S vs. Surface Hub 1
The major similarity between Surface Hub 1 and 2S is, that they are running the same operating system. Both have a Windows Team edition installed, which is designed for a great meeting room experience. For example, it only takes one click to start a Skype or Teams call. Therefore, Surface Hub 1 and 2S are exactly the same on the software side but completely different on the hardware side. The Surface Hub 2S is:
produced in Asia instead of the US
much lighter than Surface Hub 1
weighs under 30kg –> easier to move around
60% thinner than Surface Hub 1
The Surface Hub series has been created to collaborate. But while the Surface Hub 1 just had the features to do so, the Surface Hub 2S actually looks like an interactive display. Because of the size and the way it's mounted flat on a wall, there were drawbacks for Hub 1. It encouraged a more traditional, presentation style with one person using the Hub at a time. It could also be mistaken for a simple television.
Hub 2S is easier to grab and start using. It doesn't look like television at all, especially if used vertically (which will be possible with Surface Hub 2X). Its large pen is always in sight and makes people want to get creative.
5. Surface Hub 2S – Use Cases
The use cases for large interactive displays like the Surface Hub 2S are endless. User adaption is what challenges companies and people, but it comes with time and with the right software.
Some of the most common use cases are:
Business Meetings
Training
Presentations (interactive and frontal)
Project Management
Product Design
Process Design
Of course, the list goes on, you can get creative with these devices however you want. If you don't know where to start, there are simple and user-friendly applications like CollaBoard, that make the adaption to new technologies way easier. They can even be used in a team – together it's more fun.
6. Surface Hub 2S – Important Videos
See here a list of the most important videos of Surface Hub 2 from Microsoft.
Introducing Microsoft Surface Hub 2S (April 2019)
What is the Surface Hub 2S? (April 2019)
Panos Panay unveils new details about the Surface Hub family (April 2019)
7. Surface Hub 2X – What to expect in the future
The Surface Hub 2X has originally be announced to launch in 2020. For Surface Hub 2S owners, it was planned to sell a CPU cartridge to level up to the 2X features. However, Microsoft has now revealed, that it is not planned to launch the Hub 2X or the CPU cartridge at all.
The Surface Hub 2X was supposed to provide the announced new Surface Hub experience with the possibility to rotate the device, put 4 of them together.
8. Surface Hub 2S 85″
Instead of a Surface Hub 2X, Microsoft announced to launch the Surface Hub 2S in a 85″ format. The screen is much bigger than the previous 50.5″ and especially suits large meeting rooms. Plus, it allows multiple people to work better together on screen.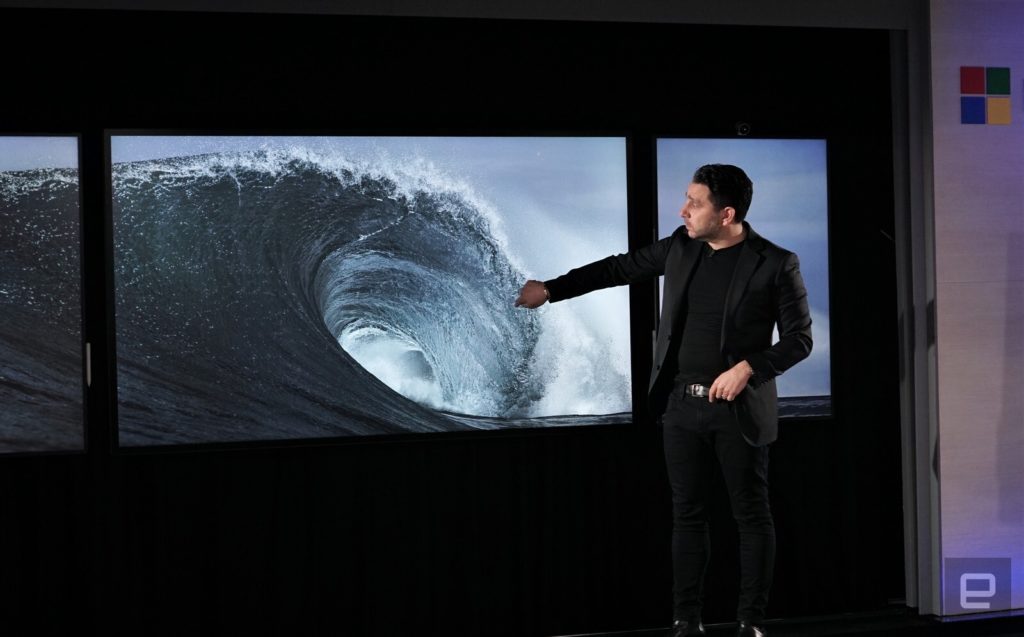 9. OS Update for Surface Hub 1 and Surface Hub 2S
Instead of launching the Surface Hub 2X, Microsoft announced a major software update for the Surface Hub 1 and 2S. The OS update is supposed to come with the first 2020 Windows 10 update and includes a more IT-friendly integration, improved deployment, and manageability features.
It is unclear, when and if features like display rotation and tiling, which are some of the main requests, are going to be included. As they originally had been planned to arrive with the CPU cartridge, it will be postponed.
10. Surface Hub 2S – Alternatives
Depending on your use cases and needs, there are good alternatives to the Surface Hub on the market, like the Windows Collaboration Displays from Avocor and Sharp. Devices like that are not running the same Windows Team edition like the Surface Hub, but use other Software (like QuickLaunch) to provide an easy and seamless user experience for meetings and collaboration sessions).
The future will show, whether there are real alternatives to the Surface Hub 2S or not. At the moment it looks as if the Surface Hub 2 touchscreen is better and more precise than on any other large format interactive display available.